Tickets to see a favorite band or a favorite sports team are protected by fans prior to the event like a mother lion protects her cubs. Once inside, tickets end up in the trash, on the floor, or act as an emergency napkin because you just had to have the extra mustard on your hot dog. Loaded tickets instantly change tickets from emergency napkins into something of value, even once fans are inside the event.
What Exactly is a Loaded Ticket?
A loaded ticket, or stored-value ticket, allows teams, stadiums, bands, or other venues to load money directly onto a fan's ticket. This stored-value is then used as a form of payment at concession stands, merchandise stores, or any other vendor at the event.
Competition Yields an Enhanced Fan Experience
Stadiums, teams, performers, and venues continue to compete for people's discretionary spending on entertainment. According to an August 2017 news release from the Bureau of Labor Statistics, the percent of total income people are spending on food and entertainment outside of the home increased 4.9% and 2.5% respectively in 2016, after increasing 7.9% and 4.2% respectively in 2015. As teams, stadiums, and venues compete for those dollars, a ticket without an obstructed view (looking at you Fenway Park) just won't cut it anymore. From turf suites at U.S. Bank stadium, new home of the Minnesota Vikings, to a swimming pool at Everbank Field, home of the Jacksonville Jaguars (we'll let you search for images of that on your own), both new and old stadiums are focused on enhancing the fan experience. Loaded tickets can play a role in that enhanced fan experience in a number of ways: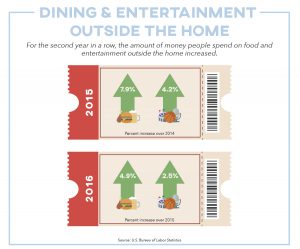 Driving Incremental Sales
In their simplest form, loaded tickets come with a pre-loaded amount that can be spent throughout the stadium or venue. Since this amount is only valid during the event that the ticket was purchased for, the fan must "use it or lose it." Due to this factor, fans with loaded tickets typically spend more throughout the stadium than fans without loaded tickets.
The Shorter the Line, The Happier the Fan
As the clock ticks down to the end of the first quarter, or even worse, halftime, take a look around and notice the slow trickle of fans headed for the concession stands. Wait for the buzzer to sound, and notice the slow trickle is now a stampeding herd. Because most fans don't want to miss a minute of the action, concession stands experience extremely busy peak times, and extremely slow down times. With loaded tickets, teams and venues can run special promotions tied to a time period that can help alleviate long lines. For example, a team that uses loaded tickets could run a special promotion that applied only to the last five minutes of the second quarter, with the goal of getting people to visit the concession stands before the halftime rush.
In With the New, Out With the Old
In addition to running special promotions that are time constrained, venues, teams, and food service companies, can also run special promotions to introduce fans to new items or clear out concession items that are approaching their expiration date to reduce or prevent loss. For example, if a restaurant operated a location in the local baseball stadium, and created a new seasonal, artisan sandwich, they could work together with the stadium to run a promotion, tied to the value of the loaded tickets, to entice fans to try the new sandwich.
Make Your Fans Feel Like Part of the Game
Sports teams giving away promotional items to fans is nothing new. The type of promotional item is. What used to be t-shirts and hats soon evolved into bobbleheads and…hats. Today, teams have taken promotional giveaways to new levels with replica championship rings, classic toys and….silly hats. These type of promotional giveaways can take a significant amount of time to plan, execute, and promote. With loaded tickets, special fan giveaways and other promotions can happen in virtually real-time, and be tied to an on-field or event or achievement.
If a professional basketball team has a player chasing a career milestone, 20,000 career points for example, the team may offer all fans in seat #20 an additional $10 loaded to their ticket, in real-time, during the game. Teams and venues may also load money to tickets to incentivize ticket purchases prior to a game, such as offering value that can be used to pay for parking at the event.
Considerations for Implementing Loaded Tickets
When a team, stadium, or other venue is thinking of implementing loaded tickets, there are a number of considerations to make and questions to ask. The answers to these questions can help create a roadmap to choosing a provider and an implementation strategy.
Should loaded tickets only be offered by purchasing directly from the stadium or venue, or also through an integration with a third-party ticket seller or ticket partner?
Will merchants at the stadium or venue, or the food service company who operates food and beverage at the stadium, be willing and excited to participate in such a program?
Does the stadium, venue, and merchants have the proper technology to support a loaded tickets program and does the solution provider understand the back-end processing technology as it relates to stored-value tickets?
Does the loaded tickets provider have the ability to process real-time transactions such as loading value onto tickets?
Do we have a marketing plan to drive awareness of loaded tickets and all the exciting possibilities to our fan base?
Is the loaded tickets solution provider able to customize the solution to fit any unique needs?
Discussing these questions both internally and with potential loaded ticket solution providers will ensure fans get the value and excitement that loaded tickets can deliver.
About DishOut
DishOut is a payment technology provider offering traditional payment gateway services including EMV and closed-loop stored value along with a full suite of mobile solutions including mobile payments, pay-at-the-table, online and mobile ordering, loyalty and rewards, and more. DishOut's stored-value and loyalty solution, called DishOut PLUS, offers a loaded tickets feature called Tickets PLUS. This feature allows stadiums, venues, and teams to implement a loaded tickets solution that can be customized to fit specific goals and needs and works seamlessly with the rewards engine in DishOut PLUS so fans can even earn rewards as they attend their favorite events.
To learn more about DishOut or Tickets PLUS, contact us today.